Moon Shaped Crescent Mosaic Table Lamp (Pink)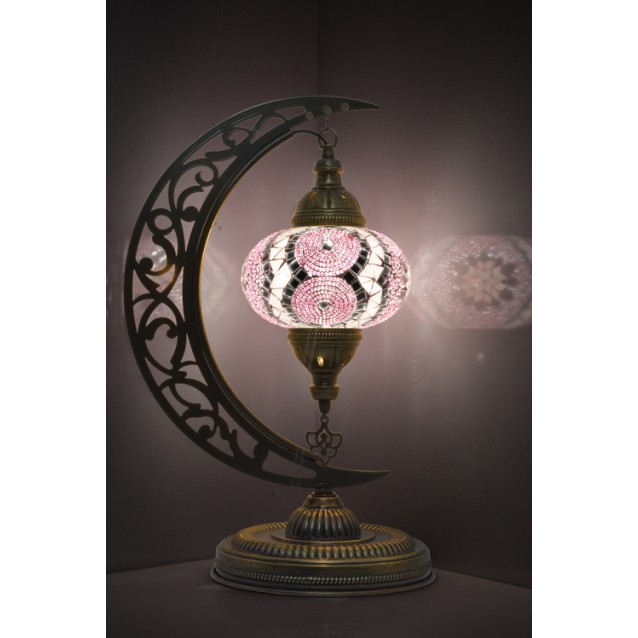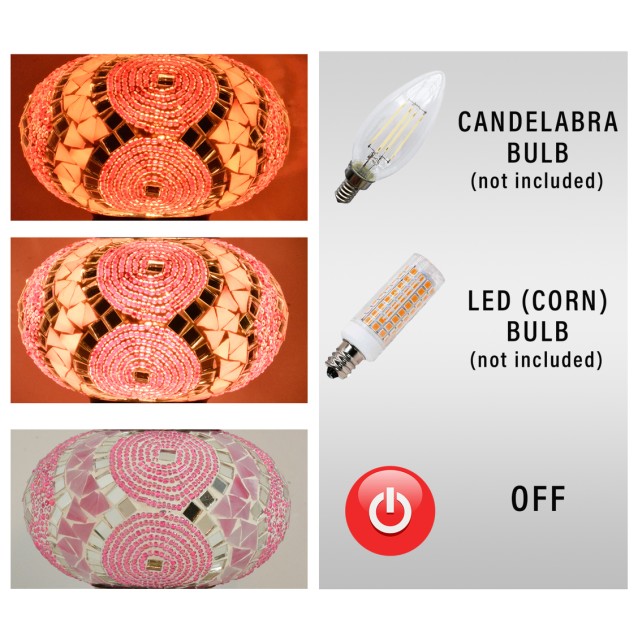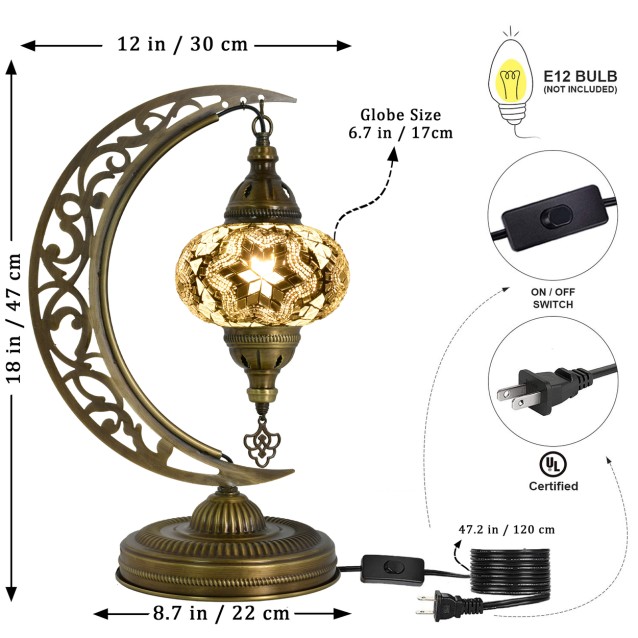 Moon Shaped Crescent Mosaic Table Lamp (Pink)
Fully Handmade
Free & Fast Shipping
Made in Turkey
Globe Size
6.7 in / 17 cm
Item Height
18 in / 47 cm
Item Length
12 in / 30 cm
Bulb
E12 (Not Included)
HANDMADE MOSAIC LAMP: Glass pieces are cut one by one and combined with the mosaic globe. The antique bronze metal body has been melted and shaped at high temperatures. The metal plate taken as a mold is shaped by drilling processes. Craftsmen create the crescent look. Wires are passed through the crescent metal part to make the lamp look better. Thus, you can only see the cable coming out of the mosaic moon table lamp base.

MOSAIC LAMP ASSEMBLY: It comes with 3 parts in the package. Mosaic glass globe, upper part, and bronze plated metal base. Metal body is combined with E12 socket and US plug. Squeeze the springs into the bronze metal body, attach the glass sphere. Then compress the upper part springs, attach them to the mosaic globe. That's it! You will find the detailed installation video inside the mosaic lamp box. Scan the QR code with your phone camera and watch the video!

LIGHT BULB INFO: Metal base of the lamp has E12 socket suitable for US/CA. We recommend that you install an LED (corn) bulb, which you can use for a longer time and get better reflection. Please note that it is not higher than 25 watts! Candelabra bulb absorbs the glass color due to its yellow light and causes you to receive less light. At this time, yellow glass pieces can be reflected as orangeish, and blue glass pieces can be reflected as greenish. Photos were taken with a Led (corn) bulb.

VINTAGE & AUTHENTIC: Mosaic moon table lamp is perfect decor for rustic and bohemian home styles. You will have authentic lighting in your home with its vintage look and completely handmade! Since the mosaic glass spheres are completely handcrafted, each one is different from the other. You will have the perfect opportunity to make your loved ones feel unique while giving your gift. It will be a great decor to reflect the warmth of your home in your living room, bedroom, office, and kitchen.

100% GUARANTEE: We offer you sturdy and excellent quality Turkish mosaic moon shape lamps. The electric system of lamps has UL standards and is certified. Our Moroccan table lamps have passed strict quality control one by one before shipping. None of our boho lamps that do not pass the quality test aren't sent to you. However, if you encounter any problems with the Turkish lamp, do not hesitate to contact us.