3 Globe Turkish Mosaic Chandelier (Brown Star)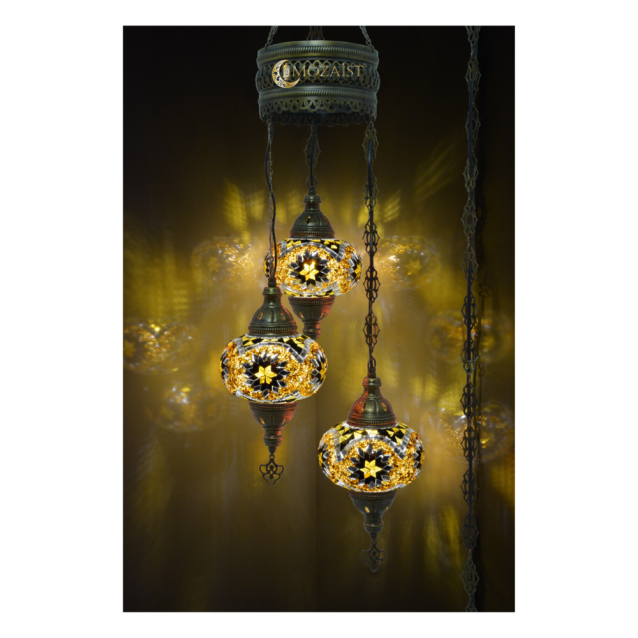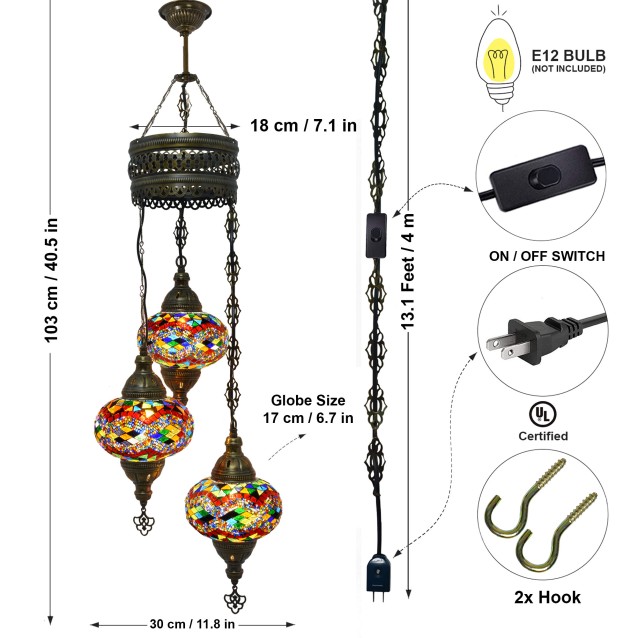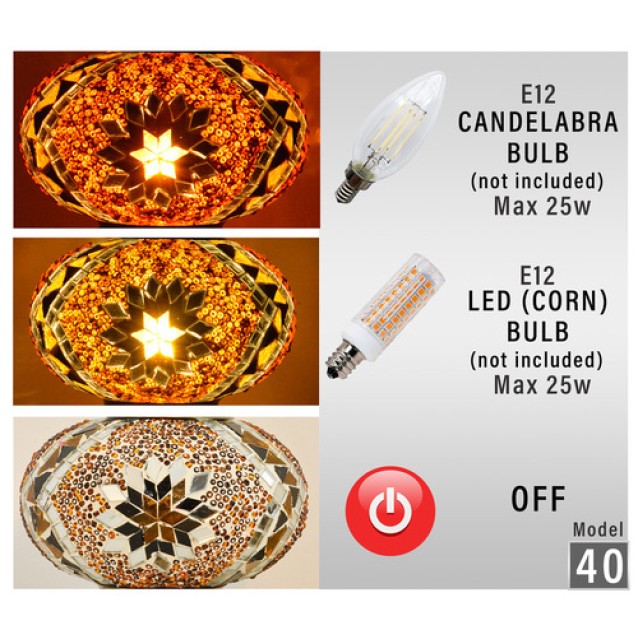 3 Globe Turkish Mosaic Chandelier (Brown Star)
Fully Handmade
Free & Fast Shipping
Made in Turkey
Globe Size
6.7 in / 17 cm
Item Height
40.15 in / 102 cm + 15 feet Swag Plug in
Item Length
13 in / 33 cm
Bulb
E12 (Not Included)
HANDMADE TURKISH LAMPS: Mosaic beads, which are completely handmade and placed one by one, will be a great choice especially for the places where you want to stay dim. Colorful mosaic globe was obtained by gluing beads such as stars, round, square, and rectangle to the glasses. The glass parts are in the original color. No paint is used. In order to protect it from external factors, bronze coating was made on antique metal and a vintage brass appearance was obtained.

USED IN MANY AREAS: Turkish hanging lamp can be used in farmhouse, rustic, country, desk, over table, terrace or maybe for your plants, animals. Bohemian semi flush mount ceiling light fixture can be used as one light ceiling lamp in the entranceway, foyer, bedroom, living, dining room, balcony, porch, patio, office, kitchen island, restaurants, nightstand, small spaces. Turkish pendant lamp looks antique decorative when it is turned off and looks brilliant stained glass, when you turn it on.

EASY TO ASSEMBLE & PACKAGE INCLUDES: Turkish hanging lamp has 40.15 in height and 13 in width.

Also you can get Hard-Wired or you can get 15 feet swag plug in for a small amount. The package includes three mosaic glasses, three lower parts and their ornaments, 2 hooks to hang. Bulb is NOT included.

TYPE OF LIGHT BULB: You can use E12 Bulb for the USA and Canada. Corn light (LED) bulb is used in the mosaic glasses in the photos. Led bulbs give the color of daylight, candelebra bulbs give warm (yellow light). If you buy LED bulb, you can use it with a longer life. Candelabra bulb emits much more light, but it isn't used for a long time and is fragile, we suggest you be careful when installing it. We recommend a maximum 25 watt light bulb. (More watt means more light.)

WARRANTY & CUSTOMER SATISFACTION: We improve ourselves every day to make you happy! All of our products have UL and CE certificates. The hanging light tested many times before it is shipped to avoid any problems. However, if you experience any problem, we take action and find a solution as quickly as possible. Enjoy your cool chandelier light!